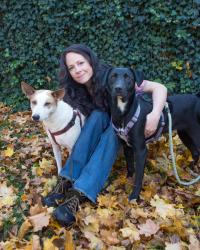 K. P. Kyle

K. P. Kyle was born and raised in Richmond, Virginia, where her mother was the founder and owner of the much-beloved independent bookstore Narnia Children's Books. She received her BA from the University of Chicago and her DVM from Cornell University. She has lived in South Boston, Massachusetts for the past sixteen years, with the exception of two years spent in Senegal. She works as a veterinarian and shares her home with a bush dog and a black dog.

Email: kpkyle.author@gmail.com

The video below is from the Allium 10-year anniversary party and Chicago launch of Sync. It is kind of long. Also it seems I have this weird affected accent, and whence it comes, I know not. But the party was fun!